Welcome to the NeoI-Products Guide
High Tech Products
for Experts and Fon Fashion Enthusiasts
Product Guide

2010 News

NEW! 2010 NEOI 937 - The next generation of Fon-Fashion by NEOI /Celluland – Super Micro Technology Fon-Fashion - 3G(WCDMA) and 2G(GSM) High Definition Digital TV Mobile 3.2 M camera with auto focus
German Design and Engineering sets Worldwide Trends and sets an Example Worldwide as far as the most exquisite Designs. No matter if it is Design is in the Telecommunications or Industrial Sectors, Germans dominate the World Market by offering extreme High Expertise and overwhelming Knowledge and superior Quality. 909 " Fon Fashion " is " Made in Germany ", be Part of the Neoi Form, Color and Technology Process.
2010 Product Series 3G / WCDMA
NEOI 937 – Super Micro Technology Fon-Fashion – based on the all time most successful Neoi 916 Credit card Phone with QWERTY Keyboard now in 3G / CDMA Technology.
GPS, WiFi, Bluetooth1. Processor: Marvell PXA310(624MHz), Qualcomm MSM6246
2·Operating system: Windows Mobile 6.5
3·Network: GSM 850/900/1800/1900MHz, UMTS 2100MHz
4·Display: 2.2" QVGA LCD with 240 x 400 resolution
5·Camera: 3.2 megapixel color camera with auto focus(main), 0.3 megapixel (viedo calls)
6·Memory: 256MB(ROM), 128MB(RAM), 2GB microSD? memory card(up to 16GB)
7·Connectivity: Bluetooth, WiFi, EDGE, HSDPA (Up to 7.2 Mbps down-link speed)
8·GPS: Internal GPS antenna
9·High Definition Digital TV Mobile: CMMB (China standard)
10·Other: Touch screen, Trackball with Enter button, 1200mhA battery capacity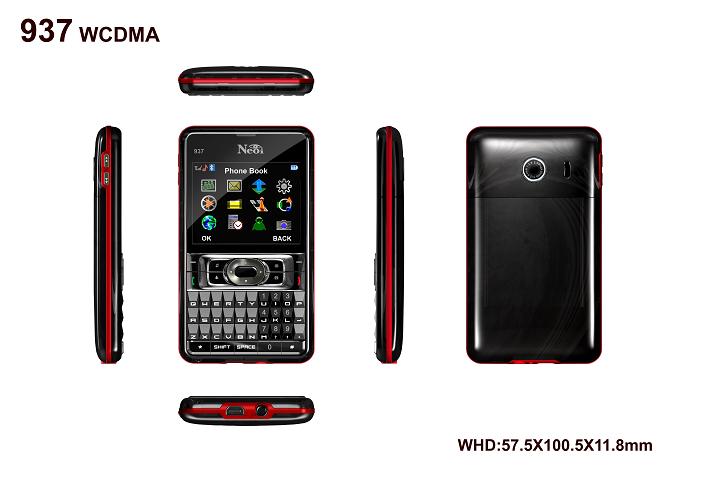 Preliminary Technical Specifications
937 3G / WCDMA Phone for Work and Pleasure
TYPE: NEOI 937

QWERTY Mobile Phone

Main Features

GSM 850/900/1800/1900MHz, UMTS 2100MHz

Optional: Analog TV (NTSC, Pal, SECAM),JAVA, WIFI, MSN (with free Neoi IT account), and MAGIC VOICE; Screen Shake, FM Radio and more ….

WAP/MMS / Web Camera

FM, Audio / Video player / recorder Neoi Standard

Voice Recorder

Dual camera with flash light

Bluetooth; optional Neoi Bluetooth Clip and Go B72

Basic Information ( Customized Software and Hardware available)

Size

100.5 x 57.5 x 12 MM

Main LCD

2.2 QVGA

Camera

1.3 mega pixels

Antenna

Optional: Extra for TV, GSM

Speaker / Headset

Stereo

Memory

128Mb+32Mb

Extended Memory

T-Flash Card (32 G MAX, pending availability of 32 GB SD Cards). Optional 112 GB with Neoi SC 112 Storage Card.

Bluetooth

V. 2.0, Single

Multimedia

Audio Player

AAC、AAC+、WAV

Video Player

Neoi Standard

Audio recorder

AMR

Video

Yes

FM Sound Recorder

Yes

Camera

Type: JPG, Size:640*480 /320*140/ 160*120 / 80*60

Phonebook

Phonebook

800 ( + each SIM 200)

Phonebook Grouping

Yes (5 grouping)

Search Mode

by name/intelligent

Phonebook Browse

by pages

Message

SMS Phone Memory

Around 310

SMS Template

10 template ( customization available)

SMS Group Sending

SMS Group Send(10)

MMS

Yes and 3 template ( customization available)

Ringtone

Type

MIDI, Neoi Standard

Integrated Ringtone Number

12 (Neoi proprietary)

Download Ringtone

yes

Edit Ringtone

yes

Power on/off tone

yes

Business/Amusement Function

Profiles selection

yes

Change Wallpaper

yes

Alarm

yes

Stopwatch

yes

Schedule

yes

World Time

adjustable

Calculator

yes

Calendar

yes

e-Book

yes

Memo Pad

yes

Recorder

yes

Auto On & Off

yes

Game

yes

On Board Airline USB

Yes, connectivity to B777 and AB 380 Entertainment Systems, for in seat Monitor Connectivity ( Neoi proprietary function)

PDF reader

Folder / Drive connectivity

Picture , Video , DVD watching on in seat Monitor

Play own Games in Aircraft with Neoi Proprietary function and Game Controller

Call Management

Call Timer

yes

Phone Call Recorder

yes

Missed Call Recorder

yes

Hands free Function

yes

Bluetooth

Hands Free, Automotive Bluetooth connectivity, Neoi proprietary connectivity to in car Bluetooth equipment

Battery / Charger

Stand-by

100 hours ( based on Industry Standards)

Talk time

4~5 h

Battery

1600 mAh Li-ion Battery for a super long business Phone and private !

Charger

Standard USB, PC USB, Aircraft USB

Extended Battery

Neoi Power Pack, Neoi Wrist Battery for up to 20 hours Talk and operation time

Accessories

Mobile Phone Neoi 918, 2 x Battery, Neoi special Credit Card sized thin USB charger ( fits into a Wallet), USB charger cable, Earphone, Neoi Cloth, car decal, User Manual

Airline Box Special

Proprietary Neoi designed Box for Airline Cart distribution
Titanium means Power – Power means Neoi WP 1500 (Optional)
The EXCLUSIVE Neoi design Wrist Power Band – Battery Power – USB Charger on the wrist of Your hand for Dual Phone usage and charging while You Walk Switch and Talk
Support - Products - Sales - Global Phone dial in - Contact
High-Tech designed in Germany by pic technology© manufactured by Neoi ©
© 2009 Neoi Technology - eMXI Mobility - NEOI Singapore are all registered by